Tuesday, May 29, 2012, 14:26
PerfectMail 3.5.0 is Available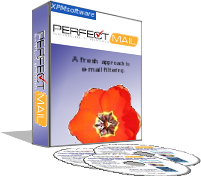 PerfectMail 3.5.0 is now available. For auto-update servers, this release will automatically be applied over the next two days. This release makes some major improvements to the User Interface, further improves our spam tests and implements two new user empowerment features: E-mail Activity Reports and a Self Service Console.
This is the general release of our Self Service Console and E-mail Activity Reporting tools. These features allow your users to manage their own e-mail. A new Setup Wizard on the Server Settings page will quickly guide you through these two new features.
E-mail Activity Reports show a digest view of your e-mail. The report is typically sent once a day, though this can be configured by your PerfectMail Administrator. The E-mail Activity Report allows you to manage your e-mail directly from your e-mail client or by clicking through to use our web-based Self Service Console. The action icons in this report will allow you to view, release and resend messages, as well as allowing you to report e-mail as spam to both your server and our spam clearing house for further analysis.
We have continued to update Administrator's Interface to increase both usability and functionality.
The Domain Administration screen has had a significant rewrite. We have consolidated the existing domain and address screens into a single, more manageable interface. This new page includes functionality to more easily manage defined and discovered e-mail accounts; including individual settings for each address, E-mail Activity Report settings and Self Service Console settings.
The Mail Log activity screen is continuing to evolve with new improvements. Now you can easily view, release, resend, report as spam and even shred and delete messages from this page. The message viewer has had a significant overhaul to be more usable and we have added a Message Replay Wizard so you can easily select and release or redirect groups of messages.
We have also updated the Archive settings to allow you to specify what types of messages to store on your server. While we suggest keeping the default settings, you now have the ability to adjust these settings as needed.
Spam continues to evolve and we are constantly working on new algorithms to identify and block malicious e-mail from various sources, including social networks. This includes major improvements to our text matching engine, analysis engines and site probing technology. Our HTML analysis code has had further improvements and is showing great promise to aid in developing new spam tests leveraging HTML structure.
Please keep sending us your spam!
Use the Mail Log, Self Service Console and E-mail Activity Reports to report your spam! You can also forward your spam to spam@perfectmail.com. All submissions are run through our spam analysis process. These submissions drive our anti-spam development process. We've made improvements to the user interface to make this process easier.
-- David Rutherford