Filtering Setup Configuration
The Filtering configuration is the simplest implementation method, requiring no changes to your client PC's. In this method the PerfectMail™ server scores each e-mail and filters out spam. Only the filtered e-mail is forwarded to your mail server; and client PC's.
In this implementation:
PerfectMail analyzes message
PerfectMail discards spam and viruses
PerfectMail forwards good e-mail
All forwarded e-mail goes into your in-box
Administrators release messages as needed
Administrators have better understanding of e-mail issues
Reduced e-mail traffic as spam is filtered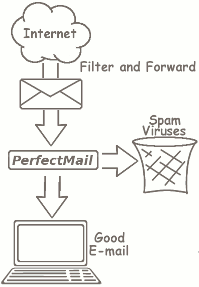 Filter settings that allow you to implement filter & forward are located in the web interface under Filtering => Filter Settings.